Mal Fisher (Kwango) - 2021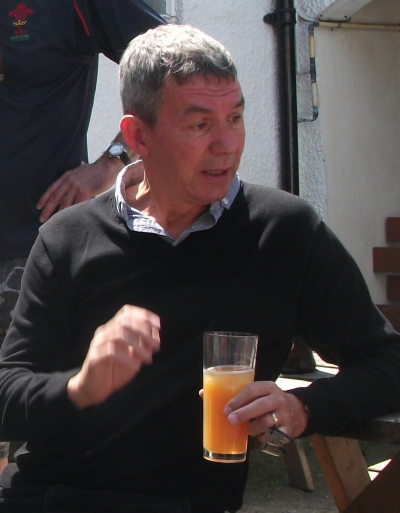 I have known Mal all my life as we grew up together living on the same street. Mal was a year older than me and we were part of a group of kids that played football, went fishing, and all the other things that youngsters do in their formative years.
It was evident early on that Mal was a talented footballer, head and shoulders better than any of us. We attended the same Primary School and Grammar School which unfortunately was very much a rugby school so Mal's footballing skills were never really recognised. He did play out of school for the local team which was sort of semi professional in the late 60's and he was top scorer for many seasons. It was unfortunate that during the 1968 campaign he broke his leg playing which delayed him going to College for a year.
So it transpired that in 1969 we both applied to St.Luke's. When we were both accepted it was a no brainer to apply to the same hall of residence. We were obviously delighted to be placed at Killerton and shared a room for our first two years. Our time at Killerton was fabulous and we had the greatest of times embracing everything it had to offer. Mal could easily have been a PE student as he was a talented sportsman, scoring many goals for the house football team but he actually trained to teach maths. He also played rugby at nearby Cullompton Rugby Club.
By sheer coincidence our first teaching jobs were in Lancaster at schools no more than three miles apart! Mal lived at home in Penwortham and drove the 20 miles to his work while I had a flat in Morecambe. Mal stayed at his school for many years working his way up to become Head of Maths Dept. After 3 yrs at my school, I left to work abroad in the Caribbean so we lost contact for quite a while.
While I was abroad, the two schools we worked at amalgamated onto one site and Mal was given a senior management role which he continued until his retirement.
Throughout his mid twenties Mal continued playing soccer to a very good standard but also cricket and golf. When he hung up his boots, he continued playing Cricket and became President of his club, a position he held with distinction for many years.
Mal got married to Bev in his early 40's and they had two sons together, Scott and Adam. After his retirement from teaching Mal continued to be involved in his local sports club until ill health meant he had to give this up. Bev and his boys cared for Mal during his prolonged illness which finally claimed him. Mal was a top man,husband,father and friend who I feel privileged to have known for over 65 yrs. I will miss him.
JP