The Killerton Mountain Boys Jug Band (an unauthorised history).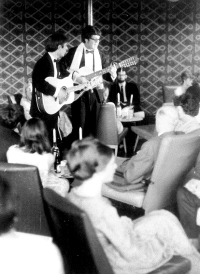 "Pasty" Pete Holman (Killerton 1964-7) was the main instigator of the remarkable phenomenon that was The Jug Band. He had played in groups around Redruth where he lived and was keen to continue with his musical activity when he arrived at St. Luke's. His acoustic repertoire was heavily influenced by Tom Paxton, Donovan and the emergent Cornish Folk 'scene'. Above all, as his later career proved, he was an approachable, hands on teacher and guide.
I arrived at Killerton in 1965 having played in groups in and around Poole in Dorset. Within a fortnight of arriving, I discovered that what Pete and I had in common was that we each had a copy of "The Penguin Guide to American Folk Song", and that most of the songs were either work songs, folk lore or history, and really demanded to be played and sung by a group. Pete set about 'recruiting' a floating group of people to play such 'instruments' as were readily available. These included George Burford – Harmonica, Tony Clarke -1st Kazoo, Eric Morse – Bass Kazoo, Chris Davies – Jug , Ian Jones – Washboard. Quite what Paul played I can't remember, and whatever Haden played there would have been beer involved. Someone must have played the Swanee Whistle because it was available and everybody who wanted to be involved got the chance to play something!
Thereafter Pete and I simply picked tunes at random from the Penguin guide and decided on an appropriate tempo. Amongst the first were "Midnight Special", "The Hammer Song" and "Pick a bale of cotton". From then on the repertoire was added to depending on the length of the set that was needed. I would guess that eventually the band could manage a set of about 40 minutes if choruses were repeated and everybody who wanted to, did a solo!
At first the band got to play in intervals at events at Killerton but as the 'fame' spread there were outside gigs, sometimes only thinly veiled excuses to invade another event and drink a lot of beer. The Band played regularly during 1965 -66 and ended when Pete went off to teach in Aylesbury and I moved in the infamous 'Dolphin Cottage' in Exmouth with tree other former band members.
I ought to mention that Pete and I had a glorious two years outside the band as a duo, playing right cross the south west and having residences at the Count House at Botallack.
As to why "Pasty Pete" it was because every Thursday without fail a parcel of home-made pasties arrived through the post, made in Redruth by his Mother, who felt that the fare at Killerton would not sustain her son in a proper manner!
The photo is Pete and I playing at St Luke's Summer ball 1966 – and as this may be an unreliable history, since it was written 55years after the events, any remembered additions would be welcome!