2011 – Keswick
At the successful gathering in Exeter in 2010 it was suggested we move little further north to accommodate those who normally reside in cooler climes.
Vijay was able to offer a base for us having recently taken ownership of a guesthouse in Keswick. He had fallen in love with the area and was eager to share his passion for the Lake District.
Chris and I made our way up on the Thursday and met up with Vijay and Jeannie, Tim and Flavia, Taff and Eyril and Sticky Leach. We made ourselves comfortable in our room. After a brief rest we went for a walk to Derwent Water and in preparation for refreshment in The Dog and Gun.
On the Friday we walked into town whilst others arrived at the Easedale. By mid-afternoon we had enough to suggest it was time to repair to a local hostelry - once again the Dog and Gun. We stayed there as the last few latecomers arrived. By early evening it was time to think about food and we relocated to Siennas Restaurant on Station Road.
They were able to accommodate us in the upstairs bar and the food and service was excellent. By the end of the evening we had eaten sufficient to return to the Easedale for a small whisky before bed.

On Saturday after breakfast most went for a walk along the banks of Derwent Water. At mid-day we met up at the Lake Road Inn for drink and to gather the troops. Whilst there, Mal Fisher turned up. He was not able to stay for the whole weekend but did have time for a drink with us and a catch up on news.
A sheer coincidence, but the weekend we were in Keswick was the weekend of the Rugby Clubs annual beer festival. Vijay had managed to purchase sufficient tickets for those who wished to go, so after finishing our drinks at the Lake Road Inn we wandered down to the Rugby Club. We had a brief walk around the tents to acclimatise ourselves of the facilities then agreed a plan of action. Some decided they wanted to have a rest and returned to the Easedale for the afternoon. Others though it would be a pleasant afternoon to go to the Rugby Club bar and watch the Rugby Match that as being televised - Wales v Barbarians – then return to the festival. Some even went for a walk, whilst others stayed and enjoyed testing the beers and ciders on offer in the main marquee.
By late afternoon all had returned to the festival and met up in the tents having each had a pleasant time in their own ch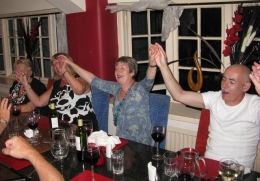 osen way. We spent an hour or two sampling te beers and listening to the bands? Food was next on te list by early evening and it was decided to frequent Siennas again, so a slow meandering wander from the Rugby Club via the Dog and Gun.
We took over the upstairs room where food and drink were enjoyed. By the end of the evening the company was singing in fine singing voice and many of the Killerton songs were sung. As we gathered our belongings to leave we apologised or any unseemly behaviour, but apparently several people in the downstairs bar had wanted to know if they could join us!
We retired to Vijay's flat where night caps (of the spiritual variety) were offered to those still able to drink.
The following morning and after an excellent breakfast, an early departure fort he drive home was the end of a fabulous weekend. Many thanks are due to Vijay and Jeannie for hosting this event..